The Prospector's Search Engine |
eGold Prospecting | Getting You To X Is What We Do!
Our tents are also pitched on the plains of…
|
|
Better yet, stake your claim NOW, make us your home page (firefox | chrome | safari | ie)
and continue to evolve your prospecting, faster and easier.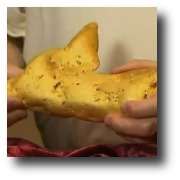 From Cordell Kent, owner of The Mining Exchange Gold Shop
in Ballarat Australia who sold this 177 ounce gold nugget found in Victoria by his mate…

See what Cordell is talking about…

Thanks for stopping by!  Please take this nugget: [rotating-posts]
Prospect another one…refresh the page now, or start your prospecting here again tomorrow for another piece of eGold!
Got an immediate gold prospecting or metal detecting question you need answered?
Call JC @ 888-963-9375 Now!